HONEST, HUNGRY, AND CURIOUS
A PROGRESSIVE
ORGANIZATION
Diverse, inclusive & welcoming to all
Race and Ethnicity*
50% of our employees identify as being a part of an underrepresented racial group
22.7% of our employees are Asian/South Asian/Pacific Islander
9.1% of our employees are Bi-racial
9.1% of our employees are Black
4.5% of our employees are White Latino/a/x
4.5% of our employees are Latino/a/x
57.1% of our Leadership are part of an underrepresented racial and/or ethnic group
Gender Expression
54.5% Cis-women
36.4% Cis-men
9.1% Non-binary/Gender non-conforming
57.1% of our Leadership are Cis-women
Sexual Orientation
63.6% of our employees identify as straight
31.8% of our employees identify as LGBTQ+
4.5% of our employees do not wish to disclose
42.9% of our Leadership are LGBTQ+
Disabilities
63.6% of our employees report not having a disability
31.8% of our employees report having a disability
4.5% of our employees do not wish to disclose
57.1% of our Leadership report having a disability
Age
54.5% of our employees are age 26-35
40.9% of our employees are age 18-25
4.5% of employees are age 36-54
Religion
33.3% Christian
33.3% Do not wish to disclose
19.0% Atheist
9.5% None
4.8% Agnostic/Unitarian
Pronouns
54.2% She/Her/Hers
37.5% He/His/Him
8.3% They/Them/Theirs
General Consulting
Digital is the heart and soul of every organization. Emerging technology is changing the way people consume media. We specialize in modernizing campaigns for purpose-driven brands and organizations. Tell us your goals and we'll be there to ideate and execute alongside you.
Online Fundraising
We've raised $562+ million dollars for progressive campaigns and non-profit organizations with our ethical and effective approach to online fundraising. We combine our storytelling expertise with our personalized approach to maximize energy for your cause.
Digital Paid Media
When you go online, everyone is trying to sell you something. Your feed is full of boring digital ads and subversive social media content. We develop the tool, techniques, and strategies needed to create genuine and authentic ad campaigns that move the needle.
Logo and Branding
It's more important than ever to show, not tell, people who you are. We design logos, branding, and creative guides that serve as a visual roadmap for your organization. We can also help with merchandising and creative ways to use your logo and branding to further your goals.
Design and Development
We build accessible websites from the ground up, to cater to your individual goals by maximizing conversion rates and online engagement. Our objective is to create an immersive digital space that inspires your target audience to take engage with your organization.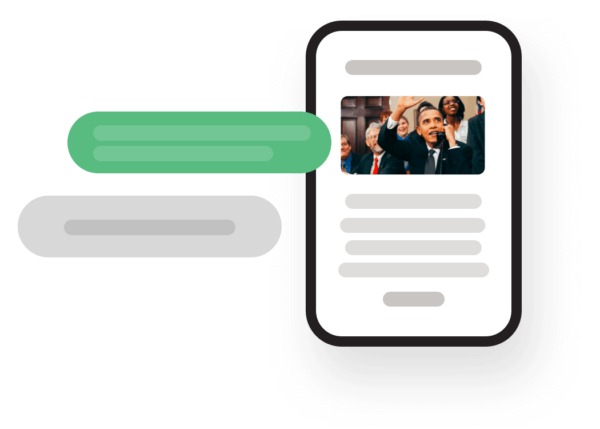 Mobile Messaging
By harnessing the awesome power of text messaging, we can meet your target audiences where they are. Whatever your goals are, our team will deliver incredible results through our mobile messaging proven process – be it fundraising, engagement, or persuasion.
2023 Pollie Awards for
Best Use of Email Marketing
2023 Pollie Awards for
Best Use of a Meme
Governor Katie Hobbs
Collateral
2023 Pollie Awards for
Website – U.S. House of Representatives – Democrat
2023 Digital Strategy Awards for
Best Email Campaign – Organizations
2023 Digital Strategy Awards for
Best Creative Campaign – Political Campaign
2023 Digital Strategy Awards for
Best Video – Political Campaigns
2023 Reed Awards for
Innovation in Media Buying (Democratic)
2023 Reed Awards for
Best New or Unusual Tactic in Paid Media
2023 Reed Awards for
Innovation in Fundraising
"Authentic did a masterful job capturing our voice and raising tens of millions of dollars online. They were great partners and a key reason we flipped Colorado's seat blue."
John Hickenlooper
"Authentic did a phenomenal job supporting our re-election campaign. They modernized our brand and website and helped us develop a successful online fundraising program that was rooted in my voice. The persuasion program Authentic developed was innovative and a great compliment to our TV, mail, and field programs."
Lauren Underwood
"Authentic's team is professional, creative, and committed to developing digital programs that are unique to each client. They have been great partners in the fight to win and maintain Democratic control of the Senate."
Karen Hancox
"Thanks to Authentic, we were able to build an historic campaign in Arizona that relied on grassroots support to propel us to victory. They were the lifeblood of our digital team, and I recommend them wholeheartedly."
Katie Hobbs
"The Authentic team delivered the necessary resources we needed to carry our message forward. Their hard work has given us the success and momentum we need to continue the work in the Senate."
Cory Booker
"When I launched my special election, our team needed to bring on a digital partner fast and Authentic crushed it from day one. They put together strategic persuasion plans that worked in tandem with our TV and mail vendors. This team knows how to get the job done and was an incredible part of our campaign's success."
Pat Ryan
"I am thrilled with the success we saw in our online fundraising thanks to the team at Authentic. They did a phenomenal job top-to-bottom, and I recommend them for your campaign."
Tina Kotek
"Thanks to Authentic, our online metrics are way up across the board. Our supporters are more engaged than ever and I love knowing how hard the Authentic team is working to prioritize our organizational goals and brand identity. It's been night and day partnering with Authentic and I highly recommend hiring them."
Will Dempster
National Immigration Law Center
"Authentic has moved quickly, worked creatively, and communicated effectively in a way that allowed me to connect with supporters across California and the country. They have helped me build a digital program that has exceeded all my expectations, while remaining, well, authentic to my voice."
Adam Schiff
We've had a great partnership with Authentic now across two campaigns, and I highly recommend them to anybody who wants to win. Their team is dedicated and hard working. They take the time to understand their client's voice and priorities. They are one of the best digital agencies out there and I continue to work with them to this day.
Jeff Jackson
For years, Authentic has helped us amplify our message online and introduce more supporters to our work uplifting immigrant communities. They have been great partners in helping us understand how we can maximize grassroots fundraising and digital advertising — all while staying true to the voice, goals, and values of our organization. Because of Authentic, we've been able to capitalize on rapid response moments. Their experience in managing and tracking multiple entities has been a great benefit to our work
Carolina Bortolleto
Deputy Digital Director, United We Dream
"Authentic was a pleasure to work with on our website redesign project. They were responsive, attentive, and understood our needs and vision to modernize our website to better support our members. Thanks to their expertise, our new website is user-friendly, and reflects our organization's mission and core values. We couldn't be happier with the final result and have already received positive feedback from our members. We highly recommend Authentic for any website design needs."
Becky Galvez
Looking

to

Make

a

Difference?

Join Our Team.
Learn more about open positions and the benefits of being an Authentic employee.